On this last day of September I was looking back at my book journal (where I keep track of my obsessive hobby) and thought I would share. Sept is a big book month what with the 4 day San Francisco Public Library Big Book Sale on the last weekend. There was also a smaller Pleasant Hill Library book sale at the beginning of the month. Plus many new books by beloved authors came out this month…well, as you will see it was busy.
Stats:
Books Read: 48
Books Bought: 30 (3 gifts, 3 returned)
Books from Library: 17
Books Given: 1
Money spent (approximately): $75 ($20 back from books returned)
Favorite Book: Catching Fire by Suzanne Collins
Other Worthies: Dreamfever by Karen Moning, Grimspace by Ann Aguirre, The Five Sisters by Margaret Mahy, Start me Up by Victoria Dahl, The Fire Cat by Esther Averill, Everyone Else's Girl by Megan Crane, and Hounds of Rowan: The Tapestry by Henry H. Neff.
Least Favorite Book was a toss up between: Improper English by Katie MacAllister, Blue Diablo by Ann Aguirre, Meridian by Amber Kizer, Someone to Love by Kasey Michaels, or The Runaway Duke by Julie Anne Long.
Books remaining on To-Be-Read-Shelf: 19
Number of Boxes of Books for Sale: 5 (Sigh. Powell's anyone?)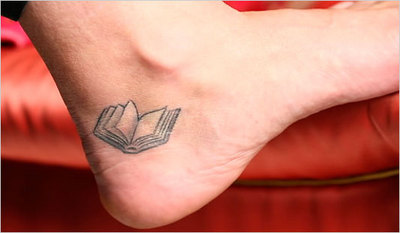 Not my tattoo, but it could be.